Professional Help With Machine Learning Homework
Struggling with an ML task? Let proven tech experts assist you so you can concentrate on the important things in your life.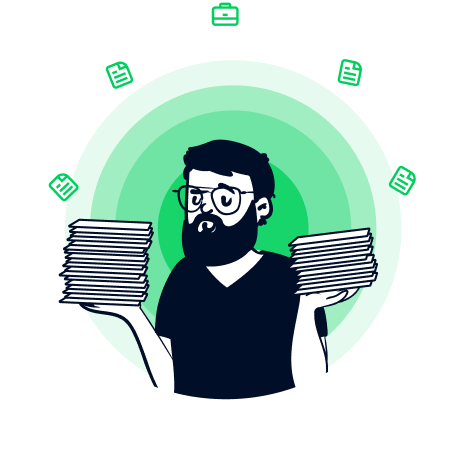 Machine Learning assignment help
Machines possess far greater computational power than humans, yet they lack the ability to think creatively and generate innovative solutions. As you delve into Computer Science or Data Science courses, your focus will shift entirely to logic and precision of mathematical computations, especially when handling complex concepts and algorithms. And that's when problems with AI homework might arise.
The good news is that the Programming Assignment's team of professional ML/AI developers stands ready to elevate your academic success and secure top grades. Our assistance extends far beyond delivering high-quality homework solutions. We can also provide detailed explanations of all the functions and methods in your code, assist you in writing 100% original, Turnitin-safe essays and other types of work, as well as edit and proofread papers written by you.
Some of the topics our programming assignment help service covers include the Internet of Things (IoT), Natural Language Processing, Algorithmic Game Theory, Robotics, Deep Learning, Data Mining Algorithms, Neural Networks, Face Detection and Recognition, Latest Trends in the Field, Cybernetics and Brain Simulation, Ethical Machines, Logical and Intelligent Agents, Design and Analysis of Algorithms, and much, more.
Should you encounter challenges when dealing with your ML/AI assignment, don't hesitate to opt for Machine Learning help at programmingassignment.net. Our certified, hand-picked coding experts are ready to help you navigate tasks of any complexity, anytime, 24/7.
Highly qualified team
Our dedicated team of ML/AI specialists comprises graduates of prestigious British, American, and Canadian universities, all holding advanced degrees in Computer Science and having 4+ years of hands-on experience in their respective domains. They were hand-selected based on their credentials, skills, and expertise with different algorithms (SVC, decision trees, Naive Bayes Algorithm, Support Vector Mechanism Algorithms, etc.). Averagely rated 4.8/5, they know what is necessary to resolve any AI/ML issues quickly and up to the highest standard.
Direct communication
The topmost priority of our Machine Learning project help service is your complete satisfaction. To ensure this, we offer a direct client-expert chat feature, allowing you to interact with your assigned expert in real time. Feel free to ask any questions related to your assignment, share ideas, and provide examples or additional materials that could contribute to the successful completion of your task. All communication takes place anonymously through a secure message board in your customer area.
Free amendments
All of our clients enjoy two weeks of unlimited free revisions to the completed ML/AI assignment, which can be easily activated by clicking the 'reopen my order' button on the details page of your customer area and providing clear explanations about the areas that require refinement. Once done, the assigned expert will review your instructions and revise the work accordingly. In case any additional information is needed to meet your expectations, they will reach out to you for clarification.
Benefits of opting for Machine Learning homework help
Getting professional homework assistance from a qualified ML/AI expert brings forth a plethora of benefits that can significantly impact your academic and professional growth. They are as follows:
Better understanding. Collaboration with a seasoned ML/AI specialist fosters a greater grasp of the subject, including the numerous methods and algorithms employed.
Improved GPA. Professional guidance ensures you receive constructive feedback and valuable insights into your assignments, paving the way for improved grades and overall academic performance.
Considerable time-saving. ML/AI assignments can be pretty challenging and time-consuming at times. Enlisting professional online Machine Learning help allows you to save valuable time, which you can spend on other important activities or academic pursuits.
Access to specialized sources. ML/AI experts typically have access to cutting-edge tools and resources that can help improve the quality of your work.
Stress reduction. Delegating some of the workload to a professional reduces the burden and anxiety associated with challenging assignments, giving you peace of mind to focus on other aspects of life.
Brighter career prospects. Acquiring expertise in Artificial Intelligence and Machine Learning opens doors to lucrative job opportunities in this rapidly growing field. As the demand for skilled ML/AI developers continues to surge, you position yourself for a promising and rewarding career path.
To put it simply, the benefits of seeking ML/AI assignment help extend far beyond academic growth. Embracing this opportunity can unlock your full potential in the exciting realm of ML/AI and propel you toward a successful future.
Why choose our expert Machine Learning services
Here at programmingassignment.net, we make every effort to ensure that our ML and AI assignment solutions to your homework will fully satisfy you, but we understand that you might want to learn more. The following is a list of features that makes our service so popular among both domestic and international students:
Personal approach to each assignment.
On-time delivery even in case of a looming order.
Turnaround from just 12 hours.
Affordable prices, starting at $45 per task.
Plagiarism-free work tailored to your unique needs.
Detailed explanations and guides on running the code.
100% confidentiality and NDAs with experts.
A variety of secure payment methods to choose from.
Rock-solid money-back guarantee.
24/7 support via phone, email, and live chat.
And the last but not least advantage of our programming help service is our blog. There you can find answers to popular questions and get the latest tips, insights, and advice on programming topics.
Steps to get ML or AI assignment solution from Programming Assignment
If you require Machine Learning assignment assistance but do not know where to start, simply take a look at how our service works. We've prepared a quick guide for you to place your first order easily.
Step 1: Provide assignment details
All you need to get started with our programming service is to submit clear instructions, along with the grading rubric, samples, and anything else that will help the expert understand the task in question, as well as choose your deadline and share contact details for our team to contact you in case of an emergency. After that, make a secure payment with your credit/debit card.
Step 2: Communicate with the expert and track their progress
As soon as your order is processed and an ML/AI expert is assigned, you will automatically receive login credentials to your customer area via email. From there, you can control the expert's progress, send them direct messages, contact our 24/7 support team, activate free unlimited revisions, rate our service, and so much more.
Step 3: Get the task done
Once the expert finishes working on your order and our QA Department checks it for mistakes, plagiarism, compliance with your instructions, and academic standards, we will send you an email with a direct link to the file. Click it to download the file from your customer area, review it, and request revisions should any be required. As simple as that!
Don't let your Machine Learning and Artificial Intelligence tasks hold you back from enjoying your time at college or university! Let qualified experts from programmingassignment.net handle the workload while you focus on other priorities. Contact us for a free, no-obligation consultation today and see how, together, we can make a real difference in your academic success.