What is Visual Basic?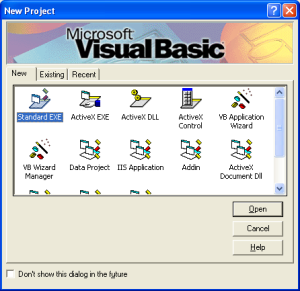 Visual Basic is a computer programming system owned by Microsoft. It was developed by Microsoft to make it easier to write programs for the Windows computer operating system. Visual Basic is the most widely used computer programming system in the history of software. This is because Visual Basic uses software tools to automatically create the detailed programming required by Windows. Programming in Visual Basic is a combination of visually arranging components or controls on a form, specifying attributes and actions for those components, and writing additional lines of code for more functionality. Some of the uses for visual basic include the following:
Develop Windows applications
Interface database systems
Providing programmability in applications such as Microsoft Excel and Microsoft Word
Create executables (EXE files), ActiveX controls and DLL files
Visual Basic is relatively easy to learn and use compared to some other programming languages. Learning Visual Basic is a good idea if you intend to program any applications for use on the Windows platform. Visual Basic or C# programming help is available through online services such as those we provide.
Getting Visual Basic programming help
We offer VB programming help for anybody in the process of learning Visual Basic programming. The help we provide includes but is not limited to the following:
Academic assignment help – Our programmers can provide assistance with Visual Basic programming homework assignments. Solutions to homework assignments include explanations.
Programming project assistance – Project help is available for both large and small projects. Corrections and adjustments to finished projects are provided at no extra charge should they be needed.
Personalized tutoring – If necessary Visual Basic programming help is available in the form of private tutoring. Tutoring is customized to your specific requirements based on your programming level and experience. Tutoring sessions are arranged to fit your schedule.
Regardless of the help you need, our service is both ready and able to provide first rate programming assistance.
About our programming service
The heart of the service we provide is our programmers. The programmers/tutors who make up our team are all degree holders from reputable institutions. They also have extensive practical experience programming in real life situations. Their academic credentials combined with their experience have given them an expertise in the programming languages they use. In addition to having well qualified programmers/tutors, using our service includes the following benefits:
Guarantee of complete customer satisfaction with the services we provide
Budget friendly rates that students can manage.
Around the clock customer support 24/7, for programming help when you need it
Complete customer confidentiality
When you need help with Visual Basic or any other programming language, contact us and benefit from the expertise that our professional programmers provide.
Image credit: http://www.theprogrammer.org/programming/VisualBasic.php