Learning all about the different hardware and software options available to you as a budding programmer is tough work. Consider using some of the best and most helpful apps for students so that you can get over the greatest of hurdles with little to no trouble at all. A true programmer uses all the tools at their disposal and it's no different when it comes to your academic assignments. Check out the programming apps for ios below and see which one fits your exact requirements.
A Guide to the Top Ten Apps for Students
There are all kinds of different apps available for students to organize their academic lives and achieve the most amount of success they can manage, but not all of the apps were made the same. Some apps go well beyond the call of duty and perform to such a high level that you'll scarcely believe the functions they offer. Consider the top ten apps for students below and pick your favorite few to boost your grades.
My Homework helps you to keep track of your latest homework assignments from your full range of classes. Although there are some differences between the ad-supported version and the paid one, both iterations will allow you to really get a handle on your academic workload. When your deadlines are pinged right to your phone or tablet, you'll have no trouble keeping an eye on which assignment is due next.
Class Manager offers an intuitive interface that'll make sure that you never intentionally submit an assignment late again. You can organize all aspects of your academic timetable, including tests and assignments, your latest grades, new courses and much more besides. If you plan on being top of your class right until you graduate, you're going to need to master the art of timekeeping and scheduling. This is the app to help you to accomplish this.
Your Class Assignment, also known as The Homework App, is well-known for helping underachieving students to reach their full potential. If your problem is scheduling, this app will make sure that you manage to meet your goals with ease. It offers a range of timetabling options and lets you keep on top of your latest assignments, leaving you to concern yourself only with the actual content of your classes.
iStudiez Pro covers pretty much everything you could ever expect an academic planning app to cover. Whether you need to keep an eye on your grades or you want to have a fully interactive and colour-coded timetable and to-do list to keep you on track, this comprehensive app will get the job done quickly and easily.
My Study Life aims to render your paper planner completely useless, and it does a rather good job at living up to this lofty goal. It can take care of any kind of schedule without much poking around the interface, giving you the free time to focus on your studies while being completely aware of what task is coming up next. Prior preparation is the key to perfect performance, and this is the app that'll help you to reach your true academic potential.
Student Agenda is an ideal way to separate your academic and personal lives and yet make the most out of both sides of your world. While academia is an important pursuit, having some downtime is healthy for your mind and body as it allows you to recharge your batteries and continue your school or college assignments at a more convenient time. It does all this while making sure that you still meet all the deadlines you've been set.
Assignment Planner Pro makes sure that you know exactly how you're performing from an academic perspective and it helps you to maximize your opportunities by organizing your time effectively and quickly. When you can plan every aspect of your studies in advance, it gives you a much better frame of mind with which to actually pursue your academic endeavors.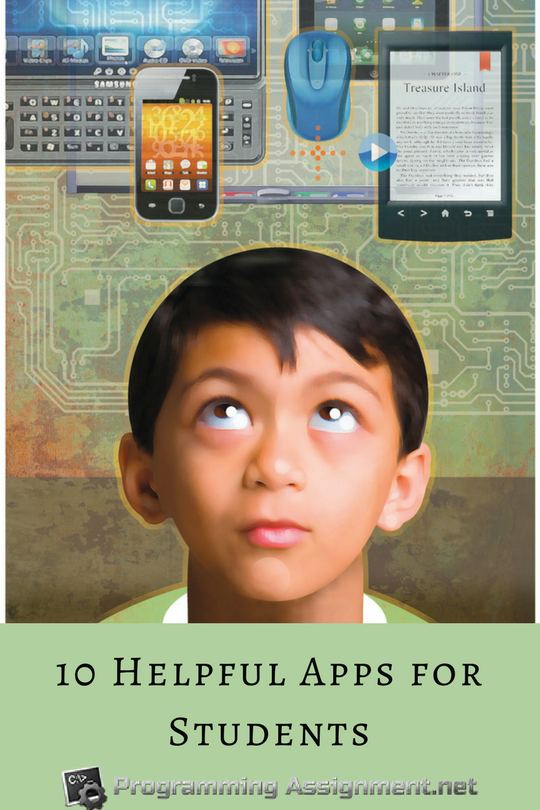 Lightbot offers a way of entertaining yourself while still practicing the kind of logical puzzle-solving skills you'll need to become a top programmer. It has been developed for use by younger children as well, so you'll be able to get stuck right in no matter what your current level of your chosen language. There's no actual programming involved and you'll focus purely on developing the non-coding skills that are vitally important to every programmer worth their salt.
Hopscotch is a great tool for students of computer science and programming homework help. Despite what you may have been told, making games is a great way to master the various logical skills that must be learned as part of your studies. You can quickly put together a fun game or website, and people will be able to enjoy and benefit from your work in next to no time at all. Learning to code can be useful and fun at the same time.
Udacity Learn Programming is a great app for advancing from the college level to a professional position as a real programmer. You can learn how to code and even gain genuine qualifications when you use this app to get a foothold on a slippery and fast-moving career ladder. Start planning for your future today and you'll reap the rewards.
The most helpful apps for students are those which teach you how to approach particular problems rather than simply spoon feeding you the answers. Take a look at the best apps outlined in this handy list and learn all about how you can become the kind of programming student you've always dreamed of.
Fulfill your programming potential when you make use of these helpful apps for students. Employ the right tools for any job is guaranteed to help you achieve superior results.